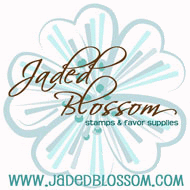 This months challenge is Thanksgiving Treats! And this months prize is...
a $10 GC to the store!!!
I am so excited to share with you my treat box filled with hershey kisses!
You cant really tell in the pictures but I actually used glossy accents on the belt buckle.
Here is a close up of whats inside.. I added basket filler underneath the hershey kisses
Thanks so much for checking out my Thanksgiving treat box! Make sure to check out what the rest of the design team did over at
Jaded Blossom
!
~Candace